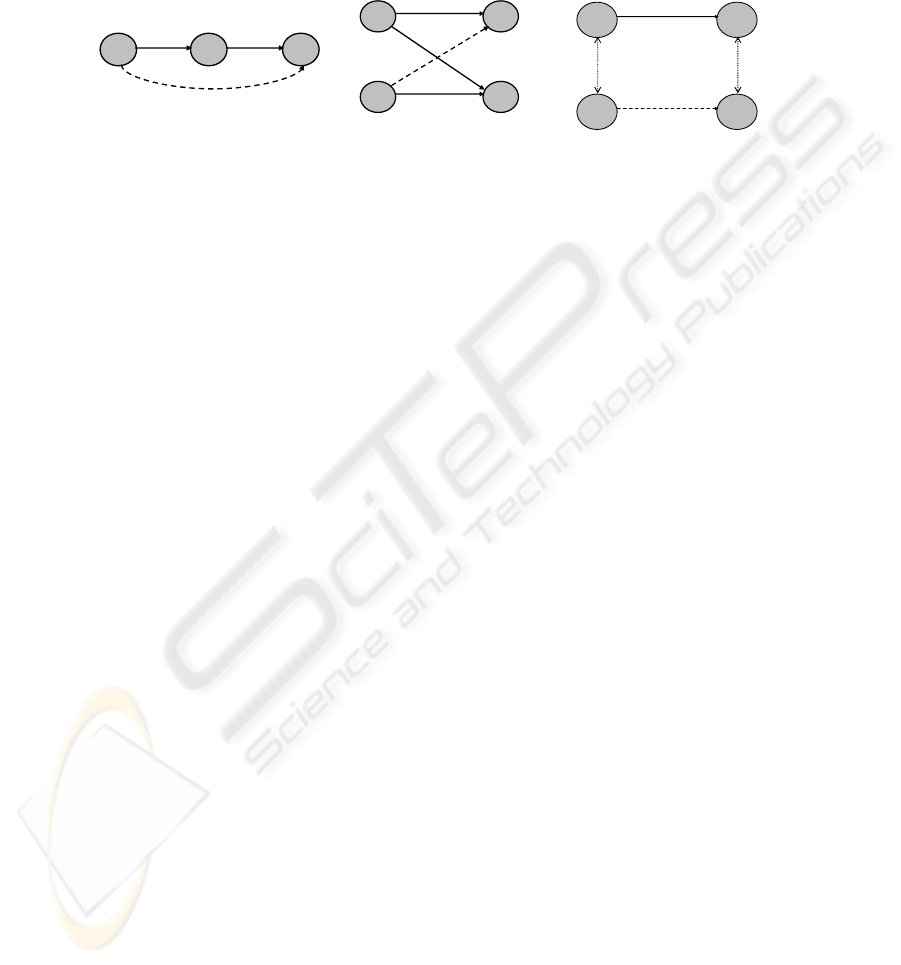 not a relationship between people unknown so far. We denote this approach as
similarity-based trust propagation. Our next steps include the further development of
our existing integrated prototype and its validation with real-life data. Also, we aim to
add social network data as an additional variable of the model and extend it by
different relation types.
A
B
C
t
AB
t
BC
t'
AC
t
B
t
CD
t
D
t'
CB
t
AB
t'
CD
a
A
a
B
a
C
a
D
Fig. 5(c).
Similarity-based
As a basis for the predictive approach, we
postulate two work hypotheses: The first
hypothesis is that the unary (i.e., propositional) and relational attribute structure
latently captures personal qualities that generate degrees of trust, possibly conditioned
on specific situations and roles. For
instance, looking at a known relational
confidence attribute with a source A and a ta
rget B (e.g., A assesses B), it is predicted
that similar relations (with respect to type
and weight) can be measured for sources
similar to A and targets similar to B. E.g.,
if A assesses B positively, C similar to A is
predicted to assess D similar to B positively, as well.
The second hypothesis of the approach is that some dimensions of trust are
transmissible through a referral network. Th
is means, for exampl

e, that looking at
such a higher-order trust relation, A tr
usts B and B trusts C, again possibly
conditioned on a situation or role, trust from A to C can be predicted. This is the
conceptual basis of referral systems, such as ReferralWeb [15] [36]. The question is
what trust dimensions do exhibit this transitive behaviour to which degree.
In particular, the first hypothesis can be
mapped to the emergent scientific area of
statistical relational learning (SRL), in which graph properties are learned from data
and the local graph topology surrounding newly observed nodes are predicted. In this
context, we note the work of Jensen, Neville and Wolfe [24] [35] [13] and of
Heckerman, Meek and Koller [8], as a basi
s for a generic social network prediction
algorithm. The second hypothesis is relate
d to the friend-of-a-friend principle, which
is the basis for transitive trust relations and in fact the basis of the existing system
already.
Further, we plan to connect actors with documents to cluster actors by their
authorship and roles. This extends the idea
of explicit profile creation to implicit
methods of profile creation, thus allowing for bootstrapping a real system by
connecting it to existing document bases. A scientific basis for work into this
direction can be found in [23]. Merging both the content and the social network into a
'smart' collaboration network to us seems a promising idea when considering the
many real-world knowledge management problems and applications. However,
several challenges appear when modelling profiles for the predictive approach to
partner matching. These are:
130