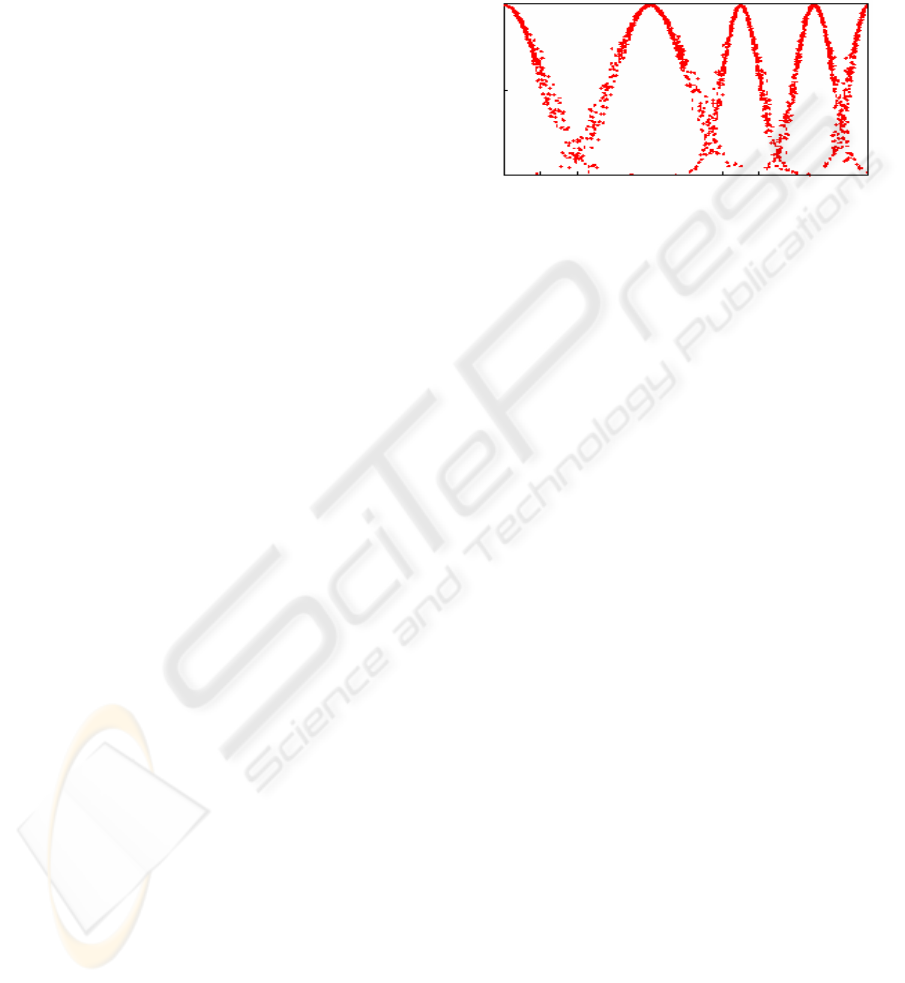 (MWSO) as well as the reliability evaluation module
for WDM networks was introduced in the second
part. Then the algorithm of the network
performability index – function value was described
in the third
part for the first time. In the fourth part
the reliability of CERNET (China Education and
Research Network) topology was studied as an
example to demonstrate the use of this module.
Finally, a conclusion will be drawn in the final part.
2 RELIABILITY EVALUATING
OF MWSO
2.1
Network performability index -
network function value
Performability index in different papers may be
different, such as servi
ce availability, frame loss
(V.Catania et. al, 1990), network delay and capacity
(Alexander A.Hagin, 1994)
etc. While communication
network systems are used to ensure all the nodes in
the network to normally
communicate with each
other, here the performability index - function-value,
v
f
, was defined as the percentage of node pairs in the
network that can communicat
e with each other under
certain performance re
quirement. And the
performance requirement includes link capacity and
maximum hop of connections. In other words,
network function value represents the degree in
which the network nodes as a whole can accomplish
their required communication tasks.
2.2
State term cloud series (STCS)
and reliability of MWSO
Whereas network function value of network can be
regarded as a quantitative representation of network
working states, it's not necessary for us to study
network reliability according
to each function value.
In other words, working states of network can be
classified to several states. As we can always use a
series of linguistic terms, such as "very good",
"fairly good", "medium", "b
ad", "worst" and words
alike to describe all kinds of variables, working
states of network can also be classified to several
kinds like this. Relation between the qualitative
description (working state) and the quantitative
f
) for working states can be explained
explicitly by Linguistic Cloud Model (LCM) (Huang
Haifeng et. al, 2001), (Li De-yi et. al, 2000). And a
series of linguistic term cloud - state term cloud
series (STCS)
(Fan Hehong et. al, 2005), as showed
in figure 1, demonstrate the qualitative description
of a variable at the full length of its defined value
area with reference to its quantitative values. With
STCS we can scientifically differentiate the multiple
working-states of network easily.
With respect to the reliability of MWSO, the
parameters should be confined by not only stated
conditions and time but also certain state linguistic
term (SLT), w. Reliability of MWSO confined by
term w is:
0,
wfw
Here
refers to the expect
ed value (information
center) of word
w

,

and

b
refers to the bandwidth of
its membership cloud (fuzziness of the concept).
And the availability of MWSO,
A
b
, in time interval
between
t
1 and
t
2, is defined as the time weighted
function value percentage:
2
,max
1
t
bff
t
∫
Additionally, for repairable MWSO, useful life
under certain circumstances
and repair rate was
defined as the operating time before its availability
of certain period length drops to an unacceptable
value.
2.3
Mapping form WDM network
elements to elements in the
Reliability evaluation module
WDM networks are typically consisting of OXCs
(optical crossconnects), OLTs (optical line
terminals), OADMs (optical add/drop multiplexers),
fibers and sometimes OAs (optical amplifiers)
(Rajiv
Ramaswami, Kumar Sivarajan)
. Furthermore,
transponders and optical multiplexer/demultiplexers
are two fundamental units that make up OLTs and
OADMs of parallel architectures. As transponders
operate on and affect certain wavelength channels in
the link, they may be regarded as the channel-related
elements, which affect only capacity of the related
Figure 1: Diagram of STCS.
worst
bad medium good very good
U
%
RELIABILITY EVALUATION OF WDM NETWORKS WITH LINK CAPACITY AND HOP CONSTRAINTS
211