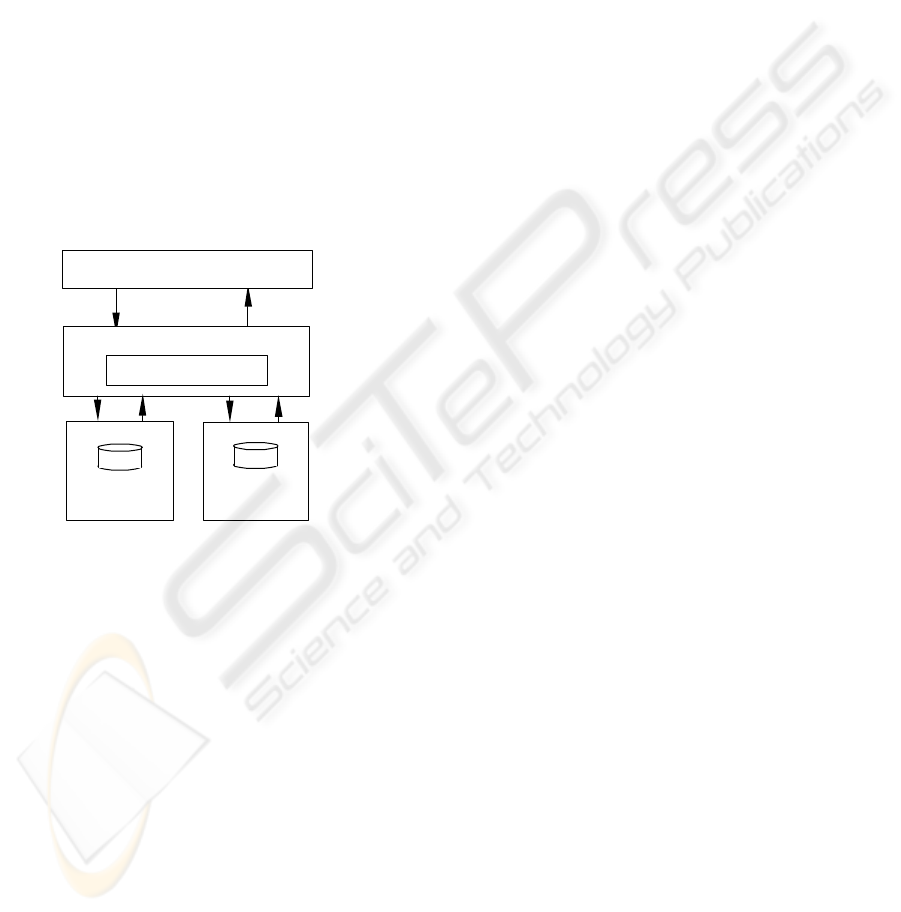 residence requirement is satisfied, we must check
the number of degree credit hours and the number of
major credit hours. Obviously, it is an ordered
inference process.
In addition, during the process, a series of
queries must be evaluated and each query
corresponds to some inference step.
To handle the above problem, we introduce the
concept of synthesized query tree, which is an XML
document tree, to represent a set of queries that are
evaluated along a tree structure.
The remainder of this paper is organized as
follows. Next in section 2 we describe the system
architecture. In section 3 we describe the
requirements documents and in Section 4 we
introduce the boolean and general synthesized query
trees that are required to process the documents.
Section 5 presents a short conclusion and directions
for further work.
2 SYSTEM ARCHITECTURE
In Figure 2, we present a layered architecture for
processing student graduation requests.
In the architecture, the End-user Layer manages
the interaction with the end-user and relays requests
to the Application Layer which analyses a request
and activates appropriate rules. Rule processing may
require access to XML documents and to various
other data stores. This architecture is designed for
handling end-user requests and not for managing
workflow as in the XRML architecture discussed in
(Lee and Sohn, 2003).
The use case shown in Figure 3 illustrates how a
user uses the system to determine a specific
student's graduation status. From this, we can see
that to handle the use case, the system needs to do
the following:
1. retrieve relevant student identification
information (see Figure 3, steps 3 and 4)
2. manage rule execution (see Figure 3, steps 5
and 6)
3. manage connections to other data sources such
as XML and student history (see Figure 3, steps 3,
4, 5, and 6)
All these are the main tasks of the application
layer. In fact the Application Layer is basically an
inference engine that derives knowledge using a rule
set represented in an XML document and data from
various data stores. The application layer
implements all the operations that will be discussed
in Sections 3 and 4.
From the above discussion, we can see that the
sample document can be considered as a rule set that
will be used to determine whether a student can
graduate with a specific major. Our model assumes
that querying some data store for ancillary
information is required, but in this paper we are
concerned only with query access and not updates to
these data.
3 REQUIREMENTS DOCUMENTS
In this section, we describe the document category
we are considering and specify how the document is
coded as an XML document. To the best of our
knowledge, this document category has not been
studied elsewhere.
We consider documents that describe
requirements to be met to achieve some designation
or status, as exemplified in Figure 1. The sample
document is typical of requirement specifications
that a student must meet in order to graduate with a
specific degree. As discussed previously, to
user request
result
Figure 2: Rule Processing Architecture
End-user Layer
Application Layer
Rule Processing
Students
Histories
XML
Documents
Use Case: Obtain Student Graduation Status
Main Success Scenario
1. Graduation officer selects the 3-Y
ear BSc (Geography)
graduation requirements page to view
2. System presents graduation requirements page
3. Graduation officer selects a student
4. System retrieves and presents student information
5. Graduation officer requests student graduation status
6. System evaluates document rules using student
history data store and displays graduation status to user
Alternate Flows
5a) The student's
status relative to a specific
requirement in the document is requested
1. Graduation officer selects a specific requirement and
requests status relative to that requirement only
2. System evaluates the specific rule and displays status
Figure 3: Student Status Use Case
XML-BASED EVALUATION OF SYNTHESIZED QUERIES
25