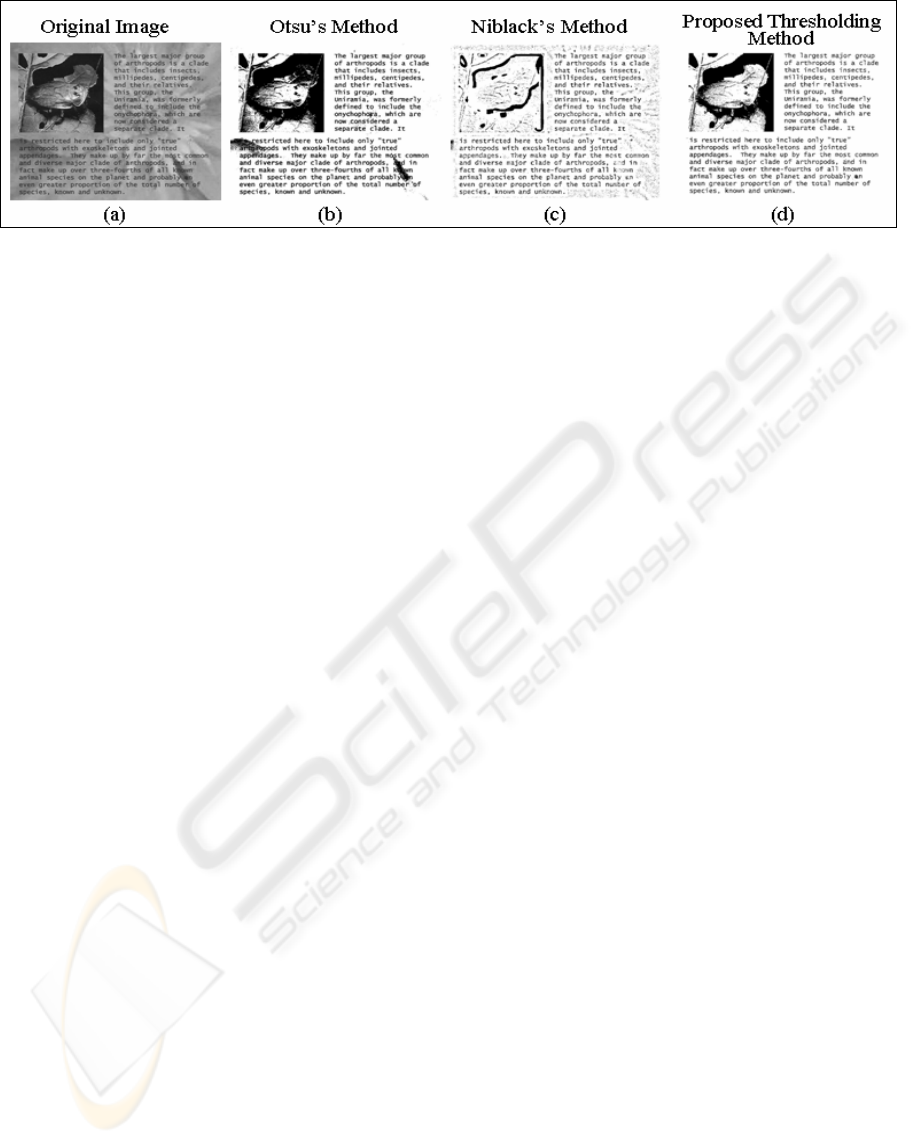 Figure 1: Example results
showing the thresholding of the Otsu's, Niblack's and proposed methods
The features related to the neighborhood pixels in
the neighborhood window, were calculated and the
actual output value for the pixel was recorded, 1 for
background and 0 for foreground. These feature
values were then fed into the MLP NN to train the
network. The MLP NN is trained by supervised
learning using the iterative back-propagation
algorithm, which minimizes
the mean square error
between the network's output and the desired output
for all input patterns. Once the NN has been trained,
the weights are used in the classification phase.
During classification, im
age data feature vectors
extracted from each pixel in
the image are fed into
the network that performs classification by assigning
a class number, either 1 or 0, for each pixel. Figure
1 shows the results of the Otsu's, Niblack's and the
proposed NN local thresholding techniques for an
example image.
4 NEURAL SEGMENTATION
4.1 Introduction
The RLSA (
Wong and Casey, 1982
) technique is one
of the most widely used top-down segmentation
algorithms. It is used on binary images to classify
images into text and halftone images. By linking
together the neighbouring black pixels that are
within a certain threshold to form blocks of text
and/or images, this method is applied row-by-row
(horizontal smearing) and column-by-column
(vertical smearing), then both results are combined
in a logical AND operation. From the RLSA results,
single blocks of text lines and images are produced.
Wahl et al. in (
Wong and Casey, 1982
) used a
statistical classifier to classify these blocks, but in
this work a NN classifier will be used to
automatically segment the contents of the images.
Figure 2 shows the thresholding, and segmentation
process.
4.2 Block Labelling
Labels have to be assigned to different blocks to
identify each block separately to be used in the
feature extraction step. All connected pixels must
have the same label. A Local Neighbourhood
Algorithm (Rosenfeld and Kak, 1976) is used which
scans the image horizontally until it hits the first
pixel then a fire is set at this point that propagates to
all 8-neigborhood of the current pixels giving them
the same label.
4.3 Feature Extraction
After block labeling, the coordinates of each block
are known. The next step
is to extract features.
Geometrical and statistical features were extracted
from each block of text and images. The following
features were extracted: the height (
i
value (
i
), standard deviation of pixels (
i
) and
black pixel count (
i
BC
) calculated from the binary
image where
i
is the label corresponding to each
block.
4.4 Block Classification
The final step in page segmentation is the
classification of each block
into its proper class. In
Whal (
Wong and Casey, 1982
), a statistical classifier
was used with parameters that were not optimized
and are application dependent. In this paper, a NN
classifier using MLP is used with the features
extracted fed into the NN
to produce the proper
classification between text and images. The NN
contained three layers, with 4 nodes at the input
layer, 7 nodes in the hidden layer and one node at
the output layer. The results of block classification
are shown in the example of Figure 2.
ICINCO 2005 - SIGNAL PROCESSING, SYSTEMS MODELING AND CONTROL
346